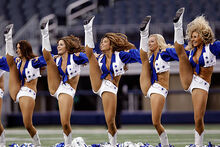 A kick line or kick-line is a signature move in cheerleading, though one rarely used in competition routines.
To perform a kickline, five or more cheerleaders line up and link arms over shoulders before high kicking. A standard kickline involves all participants facing the same direction and using the same leg whilst alternating and typically finishing with a roundhouse kick. However, there are many alternative routines in which cheerleaders may be facing in different directions, in non-linear layouts, moving, and using different legs whilst incorporating jumps and other show techniques.
The most famous kickline is that of the Dallas Cowboys Cheerleaders.